August 17th, 2012 | By
As the saying goes – good things come to those who wait. Charlie Mayfair may have taken a little extra time to hit the touring trail following the release of their Fall In Time EP, but after a sold-out Brisbane launch show, the band are now happy to announce they'll be taking their newly-evolved sound to the live arena with their most commanding shows to date, kicking-off in Melbourne on September 15.
Stepping out for the first time as a quartet, sans the male accompanying vocal of recently departed member Dave Di Marco, the shows will see Hannah Shepherd step into the role as the fiery front woman and solo lead vocalist for the group.
The tour also follows the rousing success of the band's most recent single 'Waste Me' – impeccably crafted and bolstered by a feverish delivery and one of the year's most gloriously haunting videos – the track certainly shows Charlie Mayfair in a brand new light, paving the way to an exciting new stage.
Joining the touring trek for all five shows is the sweet pop strokes of The Falls, the Sydney-siders join the fold on the back of a recently sold-out hometown show and their splendid single, 'Home'.
~~
"With Fall In Time, Charlie Mayfair have nailed down a sound …their folk roots shine through, and are backed up by soaring rock guts, subtle supporting electronics, and incredible powerful vocals." – Indie Release of the Week – The Brag
"The local five-piece have crafted a grandiose four-track EP …with powerful instrumentation and layered vocals combining to make an impressive sound." AAA Backstage
"There is really nothing to fault with Charlie Mayfair's Fall In Time EP. It is a dark, well-constructed affair that sees the band reach new and impressive heights both in terms of delivery and craftsmanship. This is folk-pop at it best." The Dwarf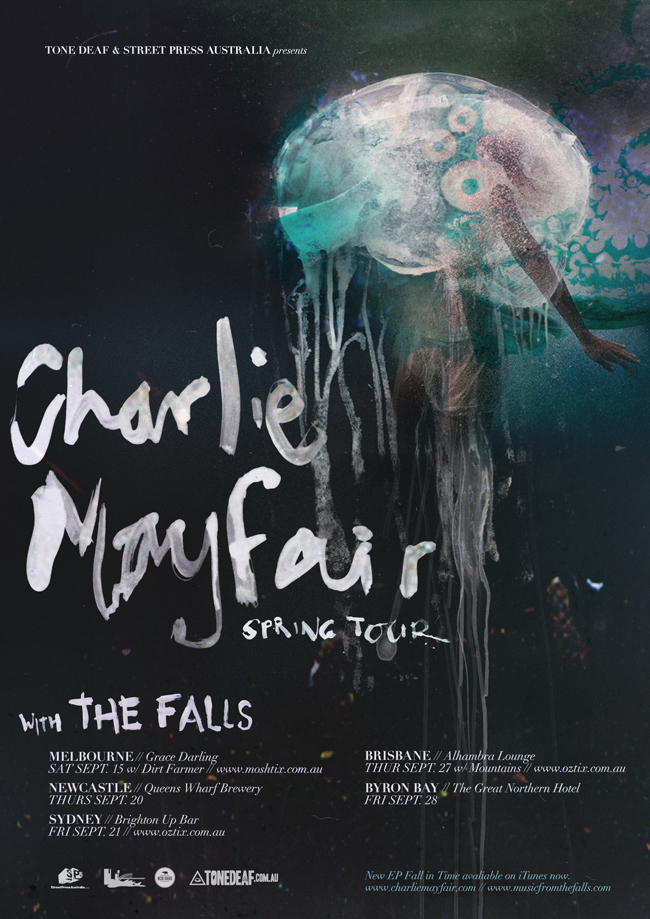 - Presented by Street Press Australia and Tone Deaf -
CHARLIE MAYFAIR – SPRING TOUR
With The Falls
TICKETS ON SALE NOW
SATURDAY SEPTEMBER 15 | Grace Darling, Melbourne
Tix: Pre-sale $10 / Door $13 / www.mosthix.com.au
THURSDAY SEPTEMBER 20 | Queens Wharf Brewery, Newcastle
**Free entry
FRIDAY SEPTEMBER 21 | Brighton Up Bar, Sydney
w/ The Falls and Band X
Tix: Pre-sale $10 / Door $13 / www.oztix.com.au
THURSDAY SEPTEMBER 27 | Alhambra Lounge, Brisbane
Tix: Pre-sale $10 / Door $13 / www.oztix.com.au
FRIDAY SEPTEMBER 28 | Great Northern Hotel, Byron Bay
**Free entry
Also appearing at:
SATURDAY SEPTEMBER 1 | Red Deer Music Festival
(Sold out)