April 2nd, 2012 | By
Once in a while an artist comes along seemingly fully-formed with an uncanny sense of the music they make and how they deliver it. Brisbane-based producer/musician Argentina is one of these artists and is now heading out on his debut interstate tour, a tri-state affair with three swift shows in Brisbane, Sydney and Melbourne.
x
These showcases, of course, come on the back of the release of his debut single 'Chalk Outlines', a striking production that almost defines the slow-burn, a seductive, synth-laden pop gem with a hook so subtly sharp, it'll squeeze itself under your skin in no time.
Brisbane lad Alex Ritchie is Argentina, a zealous soul making striking bedroom productions with an amazing grasp of his own songwriting and a fierce determination on stage where he leads a five-piece ensemble. The outfit are quickly making a name for their captivating live stage show, having already supported the likes of Neon Indian, San Cisco, Pluto Jonze and YesYou.
'Chalk Outlines' is the first official taste of what's to come from a forthcoming, debut EP release – the single is available now via iTunes and all good digital retail outlets.
—

"Dark and seductive minimalist synthpop. Top quality stuff."
- Dom Alessio, triple j Unearthed
"Had me hooked instantly. You pull this off so well and the best thing is you show you can do it on more than one song. So excited about what's ahead…"
- Dave Ruby Howe, triple j Unearthed
x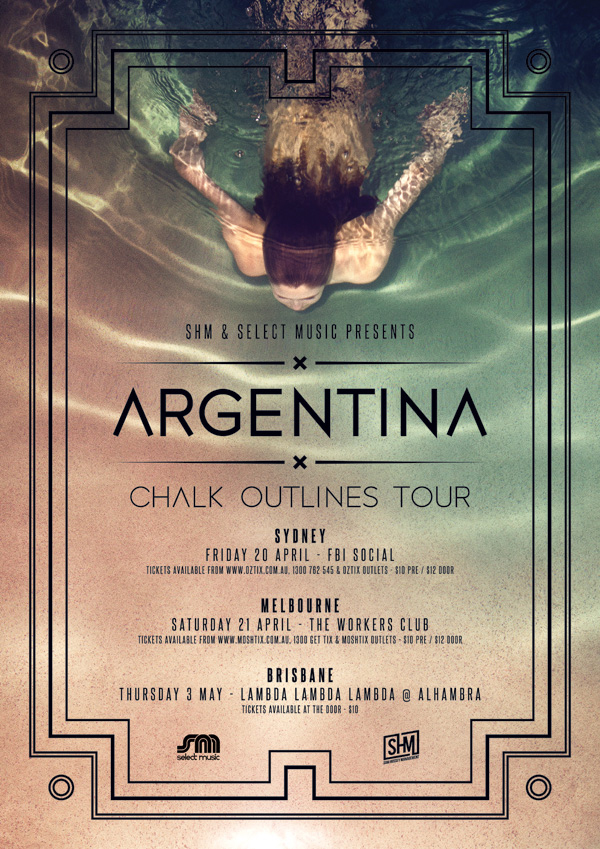 CHALK OUTLINES TOUR
Tickets on-sale Monday, April 2
FRIDAY, APRIL 20 | FBI SOCIAL, SYDNEY
SATURDAY, APRIL 21 | THE WORKERS CLUB, MELBOURNE
THURSDAY, MAY 3 | ALHAMBRA LOUNGE, BRISBANE